Description
Introducing the Ultra Light Weight 9mm Titanium Suppressor, the KINETIC WIZARD-9 Ti suppressor from Kinetic Suppressor.  The Wizard-9 Ti is designed to maximize sound suppression while adding minimal weight to your firearm. This suppressor features a small outside diameter of 1.25 inches ensuring the KINETIC WIZARD-9 Ti will fit inside most small diameter AR-15 handguards with ease.  Featuring multiple mounting options including direct thread compatibility with a variety of thread pattern options, a quick detach 3 lug mount, or with compatible booster for handguns.
The KINETIC WIZARD-9 Ti has an overall length of 6.5 inches with 7 laser welded baffles providing highly sufficient noise dampening and excellent balance.
CALIBER: 9MM
LENGTH: 6.5 INCHES
WEIGHT: 4.80oz, SUPPRESSOR ONLY
WEIGHT: 5.57oz, w/ DIRECT THREAD, INCLUDED
WEIGHT: 7.70oz, w/ BOOSTER
BAFFLE COUNT: 7
OUTSIDE DIAMETER: 1.25 INCHES
DECIBLE RATING: 9MM: 135dB / 300BLK:133dB
CONSTRUCTION TYPE: LASER WELDED BAFFLE DESIGN
HEAT TREATED:
BARREL RESTRICTIONS: NO
SERVICABLE: NO
FULL AUTO RATED: YES: 9MM / SUBSONIC 300BLK
MATERIAL: G5 AMERICAN TITANIUM
COATING: CERAKOTE // RAW
DIRECT THREAD: 1/2-28 RH BOOSTER / 1/2-28 RH / 1/2-36 RH / 5/8-24 RH
DIRECT THREAD MATERIAL: 4140 AMERICAN STAINLESS STEEL, HEAT TREATED, BLACK NITRIDE
QUICK DETACH COMPATIBILITY: LIBERTY SUPPRESSORS 3 LUG MOUNT // GEMTECH SUPPRESSOR 3 LUG MOUNT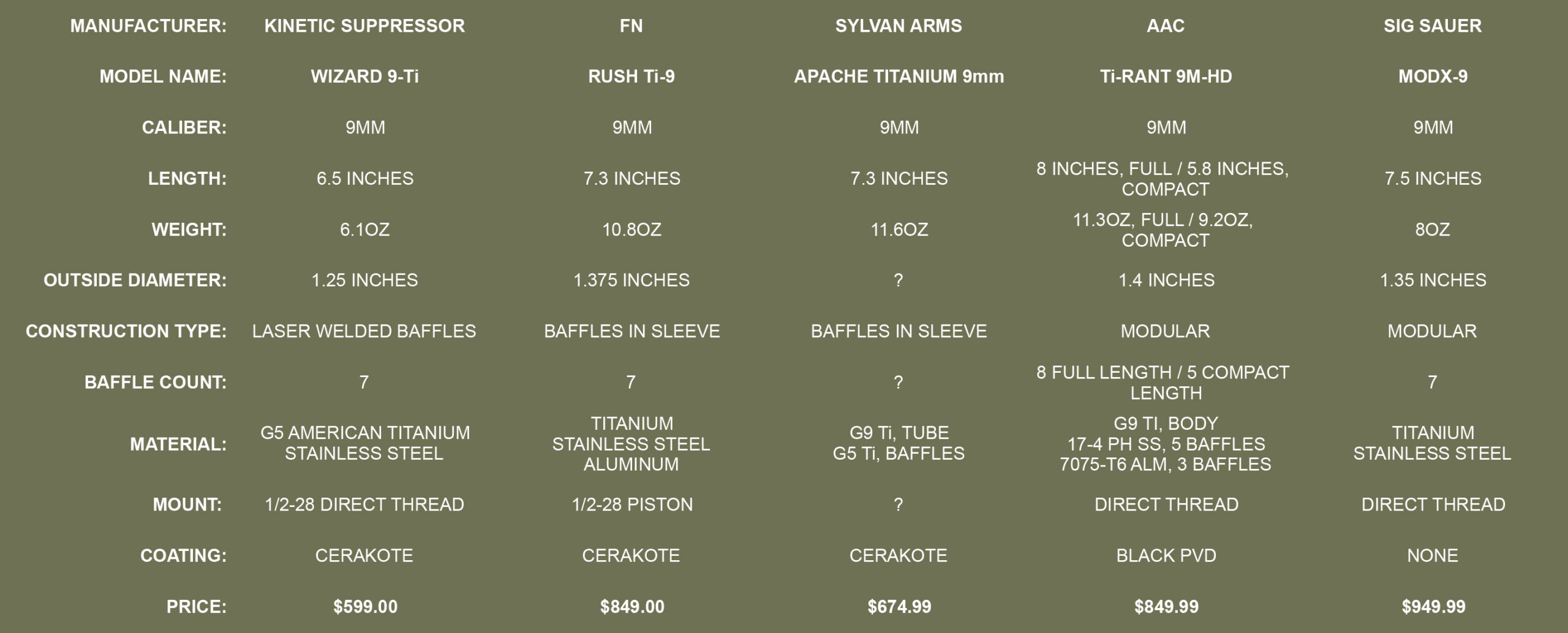 THIS IS AN NFA ITEM, ALL NFA RULES APPLY.  SUPPRESSOR CAN ONLY BE SENT TO AN S.O.T.